I was born in a little village called Brooklyn in the great city of New York on April 20th weighing 7lbs. 7oz. As best my mom remembers it was around 7 p.m. My birth certificate didn't report the time and the Bethel Hospital in Brownsville, Brooklyn was demolished decades ago. So astrological charts are meaningless to me. Half say, I am Aries, the rest Taurus so maybe I'm on the cusp with a cow in Kansas. If I feel I need to look, I pick the best one and get on with the day.
I moved from Brooklyn at age six to Queens, another borough of New York City. The area was called Kew Gardens. The only other person I know who lived there, although I didn't know him at the time, was Jerry Springer. So I thought it was serendipitous when I got to play him in Jerry Springer the Opera. Which opened at the Royal National Theatre in London, 2004.
On my ninth birthday my family moved to Long Island N.Y. My brother Elliot was five and my sister Debi was eleven months old. The town was called Valley Stream and although it was only thirty minutes from Brooklyn it seemed like a farm to a kid from street gangs. Our house had a back yard with fruit trees and a front lawn that ran to the street without pavement. School was all day instead of triple session. (In Queens we split the day into three two-hour sessions because of over-crowding). Fourth grade was catch up time for me. My teacher Mrs. Earl said, 'you passed by the skin of your teeth'. 'Lucky for me she lived across the street and lucky again that she wasn't a dentist, who has skin on their teeth?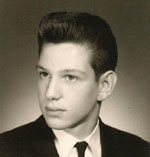 I attended Memorial Junior High and then Central High School. I won a Regents Scholarship to College but I knew after three hours of pre-law it was not for me. I had worked for a beauty supply after school and stayed with it for a couple of years.
Coming home from Nassau Community College one night there was a pain in my lower back. By morning i was paralyzed and it would take months before i was able to walk again. But the pain and downtime served it's purpose and given me pause. I quit my day job and law classes.
I wanted to be in the movies!
1965

I auditioned for the American Academy of Dramatic Arts and got accepted after doing the famous scene from Hamlet, and the Sakini role from Tea House of the August Moon. To tell the truth, I had never acted in a school play or even seen a play in my life. I did see Marlon Brando play the part in the movie of Tea House. He was my hero as far as acting was concerned, always will be. On the Waterfront is still my favourite movie.

1967

Two years later I graduated the Academy but have to say I didn't learn much about film. It was more geared to stage. But I knew I had made a good life change. Film was what I wanted. I was also attending acting classes at the Actors Studio. We put on a production of The Crucible for Lee Strasburg, who critiqued us afterwards. He was tough. More so on the director than the actors. I told myself I would give it two years, two years to get my movie.

1968

I auditioned for a dinner theatre production of 'The Rainmaker'. I did an imitation of Burt Lancaster playing Starbuck. The director said 'good Burt, but you'd be a better Jimmy Curry'. So I had my first professional theatre job. Only before each show the actors had to serve dinner to the audience, then change to perform after the tables were cleared. It's an experience let me tell you. I remember someone in the audience asking for more coffee in the middle of my emotional breakdown speech. With or without …

1969

I made the rounds of New York and worked as a waiter like thousands before me and thousands still do. I drove delivery trucks and baked bagels. You do what you gotta do and make the break happen cause nothing puts on the brakes like waiting for breaks. I got my first agent by picking two names off a lobby list at the William Morris Agency. I called one agent and told him the other agent said he must see me. It worked. The agent got me an audition for 'Does a Tiger Wear a Necktie?' I had several call-backs for the lead role. Inches away from the lead on Broadway. As luck would have it, one actor beat me out. His name was Al Pacino. The producers were impressed with my work and gave me another role and I understudied Al's role as well. We became friends but the play, for which Al won the Tony award, closed a week after opening. I never got to play the part.

Starting out as an actor is tough stuff but a stroke of good luck was meeting two people who are still in my life. Renee Valente was the head of casting for Columbia Pictures/Screen Gems and the other was her assistant, Rachel. They were a port in a storm, kind and helpful. When Columbia closed the N.Y. office and moved them to Los Angeles I looked them up a few months after Tiger closed, auditioned and landed my first lead in prime time TV. Another lucky stroke, an LA casting agent had seen me on Broadway and had made notes on my performance. That led to the lead in an episode of MGM's new series; Medical Center.

I returned to N.Y.C. to audition for 'Lovers and Other Strangers'. The timing was right. I got the lead in my first movie with Diane Keaton, Bea Arthur, and Gig Young, who had just won the Oscar for best actor in They Shoot Horses Don't They? What an experience! I had what I wanted, the lead in a movie within two years! Life is good!

1970

After Lovers and Other Strangers, I went back to Los Angeles and rented the most amazing place; a monk's cell in an old monk's dorm that a monastery had sold off to a private owner. For a guy from Brooklyn this was like a Paris artists' pied-à-terre. It was on Vista Del Mar, under the Hollywood sign and filled with artists, actors and musicians.

After that I went to Venice - Italy to make my second feature, Jennifer On My Mind. This was my first trip to Europe. En-route to Venice I stopped in London for the first time. Then travelled to Amsterdam and on to Venice. After finishing the Venice part of the shoot, swimming across the Grand Canal.

I returned to finish the movie in NYC. With Typhoid Fever. Robert de Niro worked on the film for a few days as a cab driver. We ate Chinese food after work and tried to figure out if the film was a comedy or a drama. The critics had the same problem.

My next film came with a knock on the door of my monk's cell. Lovers and Other Strangers had been released in Europe and cult director Dario Argento wanted me to be the lead in his new movie. His father, Salvatore came to find me for Dario's third film, Four Flies on Grey Velvet. He handed me the script and told me his son Dario was waiting for me in Rome. Working with Dario in Italy was spectacular. One day, Dario informed me of a special opportunity; I was to have a private tea with Federico Fellini on the set of Roma. I stayed in Italy almost a year and returned to London on way home.

1971

My first television movie; The Impatient Heart, written by Alvin Sargent, (Spiderman ll) and directed by John Badham, (Saturday Night Fever). TV movies really were movies made for television then. Quality writers, directors and actors were making films in twenty-eight days instead of the months or years a feature would normally take. On this one, I worked with Carrie Snodgrass who passed away in 2004. At the time she was nominated for best actress in Diary of a Mad Housewife.

One day after filming on the Santa Monica Pier, Carrie asked me if I liked Neil Young, I said, 'Yeah!' I raced us to his concert downtown L.A. Not knowing Carrie was his special guest. We sat with him in his dressing room while he warmed up and practically on stage while he performed. He came back to the set with us and hung out on set for days. After the shoot I rented my motor home dressing room, drove up to his ranch and hung out some more. Neil is still my favourite singer.

1972

Then back to Los Angeles and lots of television work. I was hiding out with friends in Mexico when my agent tracked me down and sent a message. Kim Novak and Tony Curtis Film, Please Come Back! I did, and it was after 'Third Girl From the Left' I had a major change in my life. Her name was Kim Novak.

1973

One year later I was living on a ranch and became the last of the Brooklyn Cowboys. Horses, mountains and sunsets were all I needed. Well and Kim.

1974

Eventually, I drifted to my own ranch in northern Malibu, Deer Springs Ranch;it was like living in a painting. I really had forty acres and a mule. Her name was Nubbin, a pure white half Arabian mule, a gift from Kim. I had fallen in love with Nubbin when I saw her standing in the foggy pasture. She looked like a Unicorn; her huge ears standing forward looked like a unicorn's horn. I left occasionally to make some television films, 'Hitchhike' was shot all up and down the California Coast, (a disturbed youth on the run), the Civil War classic remake of 'Red Badge of Courage', (first period costume as a heroic Yankee soldier) and the television musical 'Queen of the Stardust Ballroom' that became a Broadway Musical after the TV film. Thrillers, period classics, and musicals. These television movies were the framework of my career.

1975

I stayed on the ranch growing long hair and a beard till my best friend Andy, dragged me to an acting workshop where I met Lindsay Wagner. Brought her up to my ranch for our first date and took her home a month later. Not long after we started going together she got a TV series called the Bionic Woman. It took more time than the ranch. Bye Bye ranch.

1976

Lindsay and I had an automobile accident that gave her a split lip and me a wire eyebrow. Late in 1976 we were married and honeymooned in Sun Valley, Idaho. She was away one day when I landed one of my favourite TV movies: James Dean. I shaved off my beard, cut my hair and prepared for the real life role of Bill Bast, James Deans' college friend and roommate. Lindsay came home, thought I was an intruder and ran screaming down the street.

I made several television films, guest episodes on TV shows and launched a new anthology called 'Love Story' directed by the late, Michael Landon (Bonanza). He was a good director and a great guy.

Lindsay and I hung out with Rob Reiner and Penny Marshall on a Hawaiian holiday. Between laughing Rob Reiner suggested I try stand-up.
By coincidence, my next television movie was Comedy Company, a two and a half-hour film about comedians. It was a great experience to do stand-up and work with a grand master like the late George Burns. I have always felt that's a way I could have gone. (Might still go?).

It wasn't until one night while performing in Jerry Springer the Opera that I had the opportunity to experience it for real. The electronic keyboard froze and I stood telling jokes to a live audience of 800 for ten minutes. Wow the adrenalin! More Please!

1977

'FM'. What a great chance to hang out with rock stars. Linda Ronstadt, Reo Speedwagon, Tom Petty, the Eagles, and Jimmy Buffet who invited me to Aspen, Colorado when the film was over. Unfortunately, so was my marriage, it was a very good time to learn how to ski. Mountains are good.

1979

I was reading in the chalet during a blizzard when I got a call from David Green, an English director. He said make a cup of tea and he read me the entire script over the phone. I said 'when?' He said, 'Now, shoot tomorrow' and I said 'where are you?' He said 'Hawaii'. I flew in my long underwear to Hawaii. Shorts, and flip-flops were all I needed. 'Vacation in Hell' was not only a TV film; it was a vacation from divorce in the news. Trapped on a desert island with four beautiful women. Somebody had to do it.

1980

More television movies, Red Alert, Perfect Match, and Between Brothers which gave me a variety of roles to play; a nuclear security agent, a TV presenter and a politician.
Change of Seasons, one of my favourite film experiences because of Shirley MacLaine.

Although the film itself didn't receive rave reviews, working with Shirley was fantastic.

My acting coach, Eric Morris always told me, 'don't act unless you have to'. Between Anthony Hopkins and Shirley MacLaine acting was not necessary.

1981

Here was another moment of film adventure. The now infamous mile-high love scene with Jacqueline Bisset in George Cukor's Rich and Famous. Rolling Stone magazine called it one of the ten sexiest scenes in cinema. I have no argument.

1982

I had an office and development deal with the late producer Julia Philips at Fox Studios for two of my scripts when I heard they were looking for a 'Michael Brandon' type on Emerald Point N.A.S. They wanted someone to be a love interest for Maud Adams (Octopussy). So one morning I sailed into the story, a bearded bachelor writer on his huge sailing boat with a white German Shepard. Story and budget changes and by afternoon the boat had sunk, the dog died, the beard shaved and instead of a romantic interest for Maud, I became a psychopath stalking her. Maybe it's time for a series of my own... Be careful what you wish for.

1983

Glynis Barber in the Ritz Hotel. She is to play Makepeace. There is more to life than weather.

1984

Badda boom badda bing, big hitsky! Dempsey and Makepeace is a phenomenon and exported to over 75 countries.
I have fallen in love with my co-star Glynis Barber.

Life is more than good. The second season she loves me too.

I was writing and directing and able to be involved with many charities and even had an exhibition of my photographs for the Princes' Trust. I love England!

1987

D & M comes to a close. It was a phenomenal and amazing experience. The crew became my family and when someone passed away we all mourned and if somebody had a baby we broke out the Champagne.
My driver Bill was an extraordinary man and I shall always miss him. We worked very hard six sometimes seven days a week, rain or shine and the years went by in a flash.

I was sorry when the series ended. Some of the best times of my life.

1988

I filmed Tales of the Unexpected and flew to Los Angeles and make 'Rock and Roll Mom' for Disney with old friend Dyan Canon. I get a call to fly to Todi, Italy to film the prestigious Dennis Potters' Visitors for the BBC. Surprise! The lady playing my wife is Glynis Barber. Todi is to die for.

1989

Return to LA to make a pilot for Aaron Spelling called Divided We Stand. It was a great idea, a one hour show about a couple with a child that breaks up and it's done as two half hour shows back to back, but ABC didn't think so. While in LA I directed Monsters, introducing my leading lady, Tory Spelling. This was the best part of an otherwise awful year. You have to have them too.

Time for change! I meet with a French Producer and Director about four movies to be shot back to back in the South of France. Glynis and I fly to the Cote' d' Azur to rent a house. Sometimes in life you realize that you made the right decision. You forewent the security of a steady job and career and it was the cool thing to do. Careers are peaks and valleys? Peak, Peak, Peak!

1990

I really enjoyed the year living in France and attending the Cannes Film Festival as a local. The last film gave me the opportunity to work with Robert Mitchum. (That's a book of stories). The final scene of the film for me was on a huge yacht in Nice Harbour. The captain said to me after my last shot and the crew were off to film elsewhere, 'the ship is booked for the entire day', I said, 'So, what are we doing here?' I cruised up the Cote' d' Azur feeling grateful for the blessings of the last year and looking forward to the adventure waiting ahead of me.

I had proposed marriage to Glynis Barber.

I returned to London to film 'Care of Time' with Christopher Lee. Then on November 18th I married Glynis Barber at Camden Council. The same day we married she had to run off after lunch at San Lorenzo to finish the last performance of a Schnitzler Play at the Gate theatre and then we went on a five-week honeymoon to India and that nearly finished me.

1991

We moved to Los Angeles. The Gulf War happened and the subject of 'Care of Time' was so weirdly coincidental that ITV held it's airing for a year fearing for the lives of British Hostages in Iraq. I am doing a series called Home Fires directed and written by Bruce Paltrow (RIP). He was an amazing man and this was an equally wonderful show. Kate Burton played my wife.

Dynasty – the Reunion. My character has an affair with Heather Locklear's character and my character's wife tells Joan Collin's character. Joan's character helps my wife's character kill my business and end the affair. Bitch!

1992

My son Alexander is born. There is nothing like it. If anything else happened that year I can't remember.

1993

I made some TV movies and a mini-series and a Murder She Wrote with Angela Lansbury.
I did the pilot of The Marshall produced by Don Johnson in Vancouver and a mini-series in Omaha with Shannon Dougherty and all I wanted was to be home with my family.
It's great to be a dad.

1996

We sell our Beverly House and just before we return to London I make a low budget film called The Disappearance of Kevin Johnson, with Pierce Brosnan and Dudley Moore. The story was about a man missing in Hollywood. Maybe it's me, Bye Bye L.A.

It's great to be back in the UK. Glynis and I get to work together playing the American Ambassador and his wife in a mini-series called Apocalypse Watch based on the book by Robert Ludlum and then again in a film called Déjà Vu with Vanessa Redgrave directed by our friend Henry Jaglom.

1997

The Knock

A great bad guy in a four-hour drama.

My old friend David Soul and I do David Mamet's play, 'Speed the Plow'.

1998

Dark Realm gives me the chance to play a Vampire in an all vampire law firm. Very fang in cheek.

I was eating lunch in Holland Park with my friend Johnny Gold when the voice of Fran Drescher broke my glass. 'Michael Brandon, why haven't you been on my show?! So I did an episode of the Nanny. Thank you Fran.

While in Los Angeles an episode of JAG. And then my old friend who directed me on Broadway, Michael Shultz hires me for a special episode of Ally McBeal playing D.A. Dawson, which continued as an episode of The Practice playing the same character on both shows.

Florida with my family during my Dad's last moments. 8th April 1998.

1999

My mom passed away. 13th June 1999. I miss them both dearly.

Jonathan Creek

C.I.5 New Professionals, another episode of JAG and D.A. Dawson returns to

The Practice

2000

Glynis and I celebrate; Ten Years Married.
Stefani Powers and I are well received at our opening at Guildford's Yvonne Arnaud Theatre for the National Tour of 'The Adjustment'.

2001

The Contaminated Man

Filmed with Natasha McElhone and William Hurt in Budapest Hungary.

The Division for Lifetime TV.

2002

The Lost Battalion. This film is based on a true story about World War 1 and I played the General who sent these soldiers into harms way.

Dinotopia. This fantasy series on a mysterious island with a lost civilization complete with talking dinosaurs was seven months in the making and lots of Goulash in Budapest.

2003

This was my Jerry Springer moment.

Playing Jerry Springer in the Royal National Theatre production of Jerry Springer the Opera.

We opened in April and moved in October to the Cambridge Theatre in London's west end.

'Hawking' A BBC Screen Drama about Stephen Hawking and the Big Bang. I had the wonderful opportunity to play the Noble Prize winner, Arno Penzias, who discovered the three degrees of background radiation that substantiated Hawking's theory. Filming on set in the day and performing on stage in the evening, playing two fascinating and living people; life and dreams at one.

2004

I am nominated for a Laurence Olivier Award for Best Actor in a musical.

Jerry Springer the Opera wins the Olivier Award, the Evening Standard Award, the What's On Award and the Critic's Circle Award. That's all of them.

Hawking nominated for Best Television Drama by the Monte Carlo Film Festival and the British Television Bafta Awards.

I am the North American voice of Thomas the Tank, doing the narration and all the voices for the characters on the Island of Sodor for Hit Entertainment.

2005

'Dead Man Weds' six part series with Johnny Vegas. Another wonderful opportunity to work with Catherine Tate in her second series. Then off to Romania to film The Detonator with Wesley Snipes playing Commander Flint.

Really enjoyed doing Michael Connelly's latest best seller on audio book, The Lincoln Lawyer, also narrating a documentary for the History Channel, 'Roman Vice.'

2006

Narrated Walking the Earth, a ten part series for the Discovery Channel, an audio book for my friend Jackie Collins, Four hour episodes of the Bill, and finishing the year with Agatha Christie - Miss Marple:The Sittaford Mystery. I even had the mystery seance with a wonderful cast.

2007

A fantastic two part Trial and Retribution XI - Closure, helping the police look for this killing monster who was me. Then fantastic fun playing with Catherine Tate in her second series. give me more more more!

A jazz tour with Guy Barker and a fifteen piece orchestra performing Guy's original jazz composition of Mozart's Magic Flute. I narrated to Rob Ryan's Mickey Spillane style story intercut with fab music at the infamous Ronnie Scott's jazz club in London and then major jazz venues throughout England. We cut the album, The Amadeas Project.

Then some stage work, I was Charlie in Steven Berkoffs' version of On the Waterfront at the Hackney Empire Theatre. Finished the year with a broken foot and landed a role in Casualty wearing my cast. How about that for luck and understanding producers?

2008

Then Hello this is Michael Brandon on City Talk 105.9. I have just finished off twelve Saturday nights from 7-8 pm on my own talk radio show for radio city's new talk station City Talk with lots of special guests, and friends, Jackie Collins, Linda Gray, David Soul, Paul Michael Glaser, Guy Barker, Errol Brown, Charlie Webb, and Glynis Barber and good chat with my friend Rob Ryan as cohort.

More Jazz with Guy Barker coming up later in the year with ronnie scots and a Billie Holiday Concert for a live BBC radio broadcast in the Cheltenham Town Hall. Then played Les Tremayne the forties radio star in Richard Linklater's new movie 'Me and Orson Welles' starring Zak Efron and Christian Mckay. what's with all the radio thing going on? Must be my voice wants it's own career.

During the summer we shot the two part 2009 season opener of Bones.

2008 ended with me (as General Sanchez) yelling 'Everyone to Battle Positions' and getting blasted by Daleks in 'The stolen Earth' the spectacular season finale of Dr Who.

2009

On with 2009, puffing along with Thomas the Tank, now that all the little trains have gone CGI. Lots of new episodes and DVDs. Then a six part bear series for Animal Planet, and a return to Cheltenham for my second Jazz Festival with the BBC Orchestra and Guy Barker. Last year it was the Billie Holiday Story and this year it was the Billie Strayhorn Story with lots of great Duke Ellington tunes. More Jazz with Guy Barker coming up early next year as we take the DZF concert International. Another wonderful thriller by Michael Connelly, 'Scarecrow' was this summer's hot seller and I am currently working on his next book 'Nine Dragons'. This one hurts it's so good.

'New Tricks' was a lot of fun to shoot. My wife Glynis was in the episode but we had no scenes together unfortunately. I played the cantankerous Colonel Norton in a UFO mystery murder. Speaking about murder, one of my oldest films has finally been released by Paramount Pictures. Directed by the Cult Master, Dario Argento. There is still a lot left to this year, and lots of exciting things to do.


2010

It was back to the boards for the new year with 'Wet Weather Cover' opening to rave reviews at the King's Head Theatre - Islington. Following a fantastic run we moved to the West End.

2010 saw me covering all areas with exciting projects in Film, Theatre, Voice and Television.

Directly after Wet Weather Cover I started work on 'Shades of Love' a mini series shot in Scotland. During the last scene of filming, I had an urgent call from my agent Max that I was needed at Shepperton Studios for a costume fitting for my new role as 'Senator Brandt' in the Marvel Classic 'Captain America - The First Avenger'

A break in filming gave me time to join the wonderful cast of Hustle in Birmingham in a lead role as Marcus Wendell a casino owner who fancies himself a hard cure for grifters.

Following Captain America I have been working on voice projects including:
my seventh read for Michael Connelly - 'The Reversal' and a full cast audio drama
of Dr Who - 'Lurkers at the Sunlight's Edge'
© 2010 Gullane (Thomas) Ltd.

Last but never least 'Toot Toot - here comes 'Thomas and Friends' because it's always good to be really useful!! Now in my seventh year of narration.

2011

So from the Glasgow 'Shades of Love' set and the pouring rain and tiny smelly trailers with no working plumbing, TV, or internet access, (yikes, I sound like my character Brad in Wet Weather Cover) to the Captain America set in the same day.

The car picked me up at Heathrow from the Glasgow flight and took me to Shepperton Studios where the Costume designer to fittings for my custom made 1942 double breasted suits. The 3D Captain America – First Avenger budget was astronomical and everything they did was first class. Huge motor homes with flat screen TV's and wifi access, stocked fridges with limos to and from trailer to the set as well as to and from the studio. It seemed like it was against the law to walk anywhere. 'Your car is on the way, Mr. Brandon.'

Lunch was brought to your trailer after an assistant took your order. Craft Services had great breakfasts, cappuccinos and tons of fresh fruit to make your own organic smoothies, not to mention the BBQ at lunch! It was like America moved to Shepperton studios.

Just to say, I have also worked on productions that didn't have trailers, caterers, limos or money to pay you and they have been some of the most inventive, passionate and collaborative productions I ever worked on. But it is nice and that's the movie biz folks!

During the Captain America shoot there was a break in UK filming as production went off to foreign locations and just enough time to fit in an episode of BBC's Hustle. The role of Marcus Wellman, a Southern Casino proprietor and grifter punisher extraordinaire was a challenging part.

Several months after filming completed on Captain America I got a call from Marvel Studios to fly to Los Angeles for an added scene. Of course like the rest of the production it was all very hush-hush with high security and no one knowing what the scene was about. So I flew to LA and was put up in a lovely suite and the night before filming, the pages arrived by special messenger. I signed for them in triplicate and read them immediately. I sat in the hotel cafe staring at the pages.

The scene was one where I stand on the Capitol building steps introducing my personal friend Captain America and hand him an award for heroism. However, he's not there to accept it. What a strange scene. What's the point?

The studio flew me there to do this rented a very exclusive location to shoot in and hired hundreds of extras and put them in period military costumes and dressed this amazing building to look like the Whitehouse. So who am I to say what the point is, know what I mean? It was actually my son who put me in the light. He said, Dad, you know when your assistant whispers to you that Captain America isn't there and they cut to an old General? I think back, 'yeah', the guy who said, 'I thought he was taller?' when he sees my assistant instead of Captain America? My son says, Dad, that was Stan Lee, the creator of Marvel Comics.

Once again, my son had the answer for me after watching the movie classic Singin In the Rain and by some coincidence I was offered the play two weeks later. My son said, it would be fun, you should do it. Fun, I said, hmm, fun. Well, I did it and I am so glad I did! The director Jonathan Church was terrific. When I asked him if I could do a little dance he said, RF doesn't dance. I said but he could in this one particular scene. Jonathan replied, 'do you dance'? I said, not a step! He smiled intrigued and said, well, that's what previews are for. So he let me do my thing and my awful little dance got a round of applause in every show.

So after an incredible summer working in Chichester, living in a house on the sea in Aldwyck bay, near the theatre, the play finished it's sold out run mid-September and made more money for the Chichester Festival theatre than any play in the theatres' history. It wasn't long before London beckoned the production into West Ends' Palace Theatre.

But first there was time to squeeze in two episodes of the televisions series, Episodes starring Matt LeBlanc. The show had just finished a hit first season on BBC in the UK and Showtime in the US. My entire family loved watching the show so when the chance came to play, Elliot Salad the Network Boss I was thrilled. Great writing mixed with a wonderful cast and a fantastic role. Fingers crossed for third series.

2012

January – August 2012

Rehearsals at the Palace Theatre. Singin in the Rain opens to five star reviews in February. The entire Chichester cast has stayed on and we all become very close. I am writing this in Corfu, Greece on my one week holiday break in August. Right now the cast all hate me, except those on holiday themselves. It's raining in London and the Olympics are making it difficult to get anywhere in town and here I am about to walk to the beach and dine in the local Taverna.

I did take a break some months earlier but it was a work leave and not holiday time. Although I must say, it was very hard to tell the difference. I was offered an episode of Death in Paradise and they film in Guadalupe. Where is that? I asked my agent and when she said, the French Caribbean, my mouth spit out Yes! Great working with Ben Miller and again with Kelly Adams who I worked with in Hustle. It came when just when I needed a break from the theatre and film is my first love.

September

Well, the last week of Singin in the Rain came on like a tsunami. Seemed ages ago I gave my notice but then the weeks flew by.

Finished filming Mr. Selfridge on the Tuesday with Jeremy Piven, who was playing the title role in the ITV period drama about the man who started the famous department store. I played FW Woolworth who created the global five and dime chain. It was a lovely production with wonderful cast and directors. Looking forward to seeing that in the new year. It was really nice to focus on the work rather than the end of the play if you know what i mean.

Finally, the last day did come on Saturday 29th. A two show day and it was a great one. The energy was bubbling and the cast were so loving and it was clear we were all going to miss each other very much. Well, it was a year and a half and over three hundred and fifty performances since Chichester and then into the London Palace Theatre.

I ordered twenty five pizzas to the front of house bar and cast and band and staff all partook. That took us to the slide show of photos I took back stage and all over the theatre. Sometimes chased by stage hands. One of the lovely dancers, Jaye put music and editing to some mediocre photography and made it really interesting.

Then, the final show, so full of texture and at times an out of body experience. Each scene i was involved in i knew i was doing for the last time. The other actors knew as well and for a millisecond our eyes would meet in a quiet acknowledgment of the moment. A quiet acknowledgment of the moment. There was great respect on stage for each member of the cast. Nobody did less than their best. That is one thing i am certain to remember forever about this production. I didn't go to my dressing room much during this show. Nobody did less than their best. That is one thing i am certain to remember forever about this production. I stayed and watched most of the play from the wings. I appreciated all the fine work going on there by Adam Cooper, Scarlett Strallen, Danny Crossley and Katherine Kingsley, and the entire cast and ensemble. Amazing!

After the final curtain call to a massive standing ovation, (an every show occurrence ) Adam walked over and took my hand and led me to centre stage. I felt like i was in a ballet. There he offered me to the audience for a special round of applause. They gave it to me and i hugged Adam and i bowed and honoured my cast to right and left and then I was thoroughly soaked by the entire cast. I mean drenched. I could not see for the water that was coming at me from every direction. It was a fantastic metaphorical farewell wave. I felt very special in that moment. Glad my wife was there to see it too. And that was it for the play. Curtain down. Oh the cast and i drank for some hours after as production treated us to a drinks party. Speeches It was all incredibly touching.

A giant sigh. Thanks.

2014

Catching up

Okay, so I drifted and didn't update the biography or indeed the entire website… I know it's been two years! Well there's a reason, but is it a good one? I can't answer that one yet. I've been working on a book: my auto- biography which would hopefully tell some wonderful stories from the exalting revelations of love and friendship to the deep within journeys and the strivings of my life constantly in motion.

However, it seems the publishers, having said they really enjoyed the writing and the humorous story-telling, were unsure of sales. A valid point: I am an unknown author, but I wasn't thinking about my acting profile, I was consumed by writing a good book. I would like people to buy it because it was a really good read. Well, nothing comes easy; I'm still working on it with about forty thousand words written so far.

At the same time I was meticulously viewing many thousands of old slides, you really have to be in prison or a monastery to spend these kind of hours transferring slides to computer. I had an exhibition in 1986 for The Prince's Trust showing only forty of these as yet unveiled pictures which I had taken over the years since 1969. After all these years the photos were fading and needing colour correction and scratch removal and I didn't want to lose them. These pictures tell stories, and I think people like to see pictures, not jammed into the centre of a book, but throughout, illustrating the story. "Too expensive" the publishers told me.

So that's what I was doing and still am doing but I forgot of updating my website. I believe the book will happen one day but it will need a special talent to help it morph to the next stage. Stay tuned…

Meanwhile, I just keep writing, including meditation pieces for my wife's website which I might include in my next update for those who are interested or for now go to: agelessbyglynisbarber.com.

Besides voice overs and documentary narratives, I filmed an episode of The Blandings in Northern Ireland with Jennifer Saunders and Timothy Spall playing a 1930's film director. While I was there, I lived in a castle and was treated royally by the owners. So spooky at night though, they said I was alone and the crew would return in the morning. I heard voices which I followed down the stairs across the huge echoing foyer passed the armour plated soldiers to a door I could see light under. I was listening at the door when it opened and a very tall white haired Gentleman stood at the door. He looked at me wide eyed and said, "You must be that actor fellow, would you care to come in for a drink?" the lord of the castle himself.

So let's say August 2014 was a very interesting month. It's turning September now and the crisp mornings are fantastic when the sun is out. I LOVE sunshine, it makes me happy. So this summer in London was a great sunny summer and I had three gigs which were all very different and all made me wonderfully happy.

It began in July on the way to a friend's wedding in France. Glynis and I flew down a week early and decided to drive from the coast of Marseilles through the mountains and finally arrive back in the hills of Cannes for the wedding. It was fantastic! I did all the driving with Glynis doing all the directing. Well, the sat-nav was in French. So we did get lost but "good" lost and we made it where we needed to get to when we got there. That's a holiday!

The day we were to arrive in Cannes, we passed through Saint-Paul-de-Vence and had lunch at La Colombe d'Or. We bumped into old friends Roger Moore and Leslie Bricusse. Lots of laughs and great food topped off with a mountain of those tiny strawberries, fois de bois on ice cream. No pictures – I ate them all.

During this travel, Glynis received an email from a friend, who was putting on a months' repertoire of four plays. So one day, while Glynny was out doing touristy things like shopping, I read the play.
After the gorgeous wedding in the hills overlooking Cannes, we flew home in time for a party put on by the woman who had sent the play. This was the launch at the Groucho Club of a new theatrical group; the So and So theatre group was to perform four new plays to be done by 28 actors and four directors. Glynis loves the theatre world and I couldn't believe we were in France a couple of hours ago. I bumped into an old friend as we entered the door – turns out it was Felicity Dean who'd be playing the wife in the play I had just read. She then introduced me to the writer who then introduced me to the director... I hardly got past the door. In fact, for most of the night I was on the sidewalk outside the Groucho Club. A couple of hours later Glyn and I were driving home and I said, I think I'm doing a play.

So the Long Road South was on. I got to chew up some stage as Paul Minx's words gave me a lot of bite. It also gave me time off (repertoire). So when Galavant was offered to me, I leapt upon on it.

My agent worked it out with the film company so after the each days filming of singing and dancing with a wonderful cast, the director and crew worked very hard to get me back to the theatre on time for the show. Which by the way, surprised me with a nomination, for an Offie for male actor (off the west end).

So the last night of the play, with a wonderful cast and my character Jake Price (corn eating racist in Indiana), came to a close. I really enjoyed the play but no time to party. I had a 6am August 31st, Sunday morning pickup for Episodes 4. My character Elliot Salad was ordering a salad in a West End restaurant that would magically be transported to Los Angeles when the show airs. It's the first episode of the new series and I can say no more, other than how grateful I am to be a part of this show.

So that was a pretty cool August, actually pretty hot with BBQs the whole month sometimes twice a day. Hanging with my family and friends in the balmy London evenings… amazing.

Stay tuned, stay centred and stay healthy.

With great respect and warmest good wishes always
Michael Brandon was born in Brooklyn, New York. After studying at the American Academy of Dramatic Arts, followed by workshops at The Actors Studio, Michael landed his first job on the New York Stage appearing with Al Pacino in Does a Tiger Wear a Necktie?, at Broadway's Belasco Theater.
The play closed, he flew to Los Angeles, and guest starred in two popular television shows filmed at two Legendary Hollywood Studios, MGM and Columbia. He then returned to NYC to audition and earn the leading role in Lovers and Other Strangers alongside Bea Arthur and another newcomer Diane Keaton. Michael had achieved his goal: a starring role in a hit movie within two years of acting school.
In Michael's second film Jennifer on my Mind, he worked with Robert De Niro, for his third, he flew to Rome to star in Dario Argento's cult classic, Four Flies on Grey Velvet. Other films include, FM, Promises In the Dark with Marsha Mason, Change of Seasons with Shirley McLaine and Anthony Hopkins, The infamous mile-high love scene in George Cukor's Rich and Famous with Jackie Bisset, Déjà Vu with Vanessa Redgrave, HBO's The Contaminated Man with William Hurt and Natasha McElhone, Richard Linklater's, Me and Orson Welles with Zak Efron and Captain America; The First Avenger, playing Senator Brandt.
Michael's career spans over four and a half decades with television the foundation for most of his work. He has starred in numerous TV Movies on both sides of the Atlantic; Third Girl from the Left with Kim Novak and Tony Curtis, Queen of the Stardust Ballroom with Maureen Stapleton, The Impatient Heart, Red Badge of Courage, Red Alert, James Dean, Gone in the Night, Shattering the Silence, The Comedy Company, The Lost Battalion, Eric Ambler's The Care of Time, Dennis Potter's Visitors, Agatha Christie's Miss Marple – The Sittaford Mystery, The Last of the Lehman Brothers and BBC's acclaimed, Hawking with Benedict Cumberbatch.
Some U.S. TV credits include, Dynasty; the Reunion, Emerald Point N.A.S., ABC's Dinotopia, Disney's Rock and Roll Mom, HomeFires, Ally McBeal, The Practice, The Nanny, The Division, Bones, Mr. Selfridge, Showtimes' Episodes series 2, 3 and 4 and currently ABC's Galavant.
Michael was best known for his role as Dempsey in Dempsey and Makepeace, the classic 80's TV series. Other UK TV includes, The Knock, The Bill, Jonathan Creek, Casualty, Trial and Retribution-Closure, After You've Gone, New Tricks, Hu$tle, The Catherine Tate Show, and The Doctor Who IV Finale, Mr. Selfridge and most recently as Elliot Salad in Episodes in series 4.
Michael was nominated for the Laurence Olivier Award for Best Actor in a Musical 2004, for his portrayal of Jerry, in Jerry Springer, The Opera. Originating the role at the National Theatre and West End's Cambridge Theatre, and winning London's four Best Musical Awards. Previously he played opposite Stockard Channing in Lady and The Clarinet, The Adjustment with Stephanie Powers, David Mamet's Speed the Plow, Charlie in Stephen Berkoff's On the Waterfront. And he received outstanding reviews in Oliver Cotton's, Wet Weather Cover at the Kings Head – Islington; transferring into The Arts Theatre in London's West End, April 2010. Most recently Michael performed The Long Road South, for which he is currently nominated an Offie for male actor.
Michael has been the US Narrator of Thomas and Friends for eight years also narrating documentaries for Sky, History, Discovery and The Animal Planet Channels. He reads audio books for Jackie Collins, Martin Cruz Smith, David Baldacci and has read seven for Michael Connelly.
Based in London, Michael enjoys joint US-UK Citizenship working throughout the US and Europe.